I feel like I shouldn't have to say this, but IM 15!! if you are over 18, please don't try to friend me unless i friend you first.
Hey, I'm Stripe. That's not my actual name but its one of the many nicknames gifted to me by my few friends. I'm 15, my favorite colors are black, red, purple, teal and lime green. I'm pretty much gay, but bisexual, I'm FtM trans, and I'm emo/punk. I swear a f*** ton, i mean it when i say that lol. I love talking to new people about music and other stuff. I play electric, acoustic, and bass guitar ad i play ukulele and flute. I love drawing and i'd say im not half bad. I only slightly shamefully write fanfiction, but i read a sh*t ton of it. I have severe anxiety and depression and probably some other sh*t thats un-determined. Im an age-regressor (DM me iif your willing to be un-judgemental and learn about it :)) Im a lowkey bullets era MCR stan but it honestly differs week to week. Pierce The Veil, Three Days Grace, and My Chemical Romance are my top favorite bands.
Who says boys cant wear makeup?

S O C I A L S

Main Tumblr: birdy1322
LittleSpace Tumblr: little-boy-blue14
Instagram: All. The. Angels. 14
Wattpad: AintNoLieBBBiBiBi














All blinkies and stickers gotten from
glitter-graphics.com
S T I C K E R S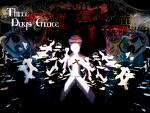 Myspace Layouts - Myspace Editor - Funny Pictures